This post has been in a draft status for a while; since I am getting ready to write my SMX East review, I figured it was time to push it out.
This was my very first Pod Camp/SearchCamp Unconference.
I found out about this event a little bit at the last minute (maybe a few days before), but since it only cost $20 to attend and it was just a smidge over a 2 hour drive from Chez Vin – I figured it might be worthwhile to check it out.
The Good Parts
+ Very affordable, close and convenient
+ It was very well run
+ Held on the weekend (why aren't more conferences like this)
+ Very diversified sessions
+ Setting – I love college campuses, so having this session at Temple University only enhanced my enjoyment.
What Is It?
From the official literature: An unconference is a meeting where the content of the sessions is driven and created by the participants. Since the quality of Pod Camp Philly is dependent on you, the participant, we encourage your active contribution. So, regardless of your level of experience, get up, ask questions, share your knowledge and live the spirit of PodCamp.
Who Attends?
I got the impression that most of the people in attendance at this unconference were independent bloggers and/or podcasters who had been doing it for a period of a few years. There were also a few representatives of search or social media agencies, as well as some small e-commerce businesses. The interaction between all of these groups was an added benefit to the sessions as a whole.
As I understand it The PodCamp portion had been a success in the past (in Philly and around the globe) and this year The Internet Marketers of the Delaware Valley decided to partner up with the PodCamp organizers and offer their own sessions under the name of Search Camp.
And while each group maintained their own event websites and organized their own sessions – once you got to the actual event, the two camps were indistinguishable from each other – and this was a good thing (as I'll explain).
There were a total of 80 sessions offered in classroom sessions and the topics were diverse. A sampling included the following: Audio Production 101, SEO for Social Media, Usability 101, Taking your Podshow on the Road, Legal Pitfalls of Blogging and Website Architecture.
The sessions were held in The Tuttleman Learning Center (essentially the library) of Temple University. The camps had access to 7 classrooms as well as the auditorium.
According to the rules of the camp, if there was an empty classroom during one of the session times and you wanted to hold a class – you were more than welcome to schedule a session. A big grid was available to write in your session to let others know what would be going on.
Other rules of the camp included the following:
1) Everyone is encouraged to record EVERYTHING at PodCamp Philly, but all content must be released under a Creative Commons license. Please tag all posted content with "PodCamp Philly" and "PodCamp Philly 2008." For SearchCamp specific material, we encourage you to tag it as both "PodCamp Philly 2008″ and SearchCamp Philly.
2) All attendees must be allowed to participate. (subject to space limitations).

3) Please allow other to express their views and do not monopolize the session.

4) The Law of Two Feet. If you're not learning what you want to learn, you're welcome to leave the session and go to a different one, or none at all. Take charge of your PodCamp experience – it will only be as good as you make it.

5) The Law of Null Space. You'll find that most learning can come in between sessions, at lunch, etc… Be ready to get engaged by asking questions, exchanging business cards or even recording your conversation.

6) Make the Most of it – It's Your PodCamp,. Hey, if you don't find a session that covers a particular topic, create one yourself! Meeting rooms are freely available so schedule your session on the board at the Registration Desk; it may be what a lot of other people are looking for too.
I had planned out a few of the sessions I wanted to attend before I even left my house. On the web, the sessions were marked with experience levels (Beginner, Intermediate, Advanced) and I picked a few Search Camp sessions I thought would be worthwhile.
Unfortunately, I left my carefully planned agenda at home and when I got to the camp I had to scramble to find some sessions I wanted to attend. And while I had planned my day around Search Camp related sessions, once I arrived the available agenda didn't distinguish between what was for bloggers/podcasters and what was for Internet marketers like me.
The end result were two days unlike the ones I had planned – which ended up far better than I could have intended.
My impressions from the sessions I joined:
What the heck is Blended Search? (Giovanni Galluci)
Gio was building search engines while Sergei and Larry were still in college. He talked a lot about blended search results and how the search engines are starting to understand that when people type in different search terms they may be looking for different content.
For instance when I type in the name of a celebrity, I could be looking for a picture of her, some recent news or gossip, or her IMDB entry.
Or when someone types in the word "apple" it could be the name of a company, the last name of a singer, a fruit or they may want a recipe.
Traditional search engines provide all of these different results on one page. But Gio is working with a company that is doing something a little bit different with a product they call Viewzi.
Viewzi is a new way to view blended search results. Viewzi isn't a new search engine. It is a way to view the results of traditional search engines in a new way. The best way to understand Viewzi is just to go use it. A vanity search is what I did, and I have to tell you while Viewzi's does have a nice "eye candy" interface, and that can distract you – the results returned were surprisingly well organized and unique.
At the end of the day though, Viewzi at this point is just a shinier version of a search engine. I guess you could call it the iPhone of search engines – only without all of the Apple mystique behind it.
Pay Per Click 101 (Greg Meyers):
My experience with PPC is limited, so nearly everything in this session was useful. Greg talked a lot about testing out different messages, upping your quality score, and the right way to become Google Adwords Certified (take the test at the end of the mandatory ad run and study hard). Overall a good session for a beginner like me, it probably would have been wasted on someone with a little more experience – which is exactly what a 101 session should be.
Starting out in Podcasting (The Handy Guys – Brian Peppel & Paul Shane)
This was a good session and a very good intro to podcasting, lots of great resources were presented and it was nice to hear the background story of how these two lifelong friends got into doing a weekly podcast.
The amazing thing to me was the amount of time, energy and effort that goes into producing even a very simple but high-quality once a week podcast. How anyone does this as a hobby is beyond me. I don't think you can do it without having a passion for it.
B2B Site Clinic (Greg Meyers and Digital Alex Cohen)
This was the first site clinic I had ever attended. It was interesting, but I don't know if there was a lot of take away for me. The sites presented were B2B, and when changes and recommendations were made the site owners said there might be some reluctance to make the changes back at the office. So I was left wondering what the whole point was.
Building Communities (Kim Krause Berg)
Kim Krause Berg was probably the most recognized name of any session and this presentation was standing room only. She walked the group through a number of community guideline best practices gleaned from her years of running the Cre8asite forums.
If you run a forum, it was probably extremely helpful. If you're looking to build communities outside of forums it was probably a little less so.
SEO vs PPC vs Social Media (Greg Meyers, Wil Reynolds & Li Evans)
Due to traffic issues at the start of the second day I arrived about half-way through this session, but this looked to be a great session. The interaction between these three forces, and which one is more important, always gets a little bit of good debate going – this session was no different.
In the end the presenters showed how the three can and do supplement each other – and they did it in a very clear way. I think a lot of value could be delivered at the agency level if more account types could explain and sell these three initiatives to clients as well as this group did.
Is Email Marketing Dead? (Beth Harte)
There were some equally great sessions competing with Beth during this time slot, so the group for this session was probably no more than 8 people. Beth gave a lot of good pointers on steering clear of CAN-SPAM violations as well as initiating and managing a sustained e-mail program.
I think of all the sessions I attended this was the only one where I walked away with the most quantitative information (as measured in actionable content – rather than just some new concepts or ideas).
How Do Search Engines Work (Giovanni Galluci)
I'll admit I was hoping this would be a little more (or even a lot more) advanced than what it was.
I wanted to know about things like whether the search engines have two or more spiders (one for link discovery, one for indexing, etc.), what criteria a spider uses to determine how deep into a site it needs to go, does it only pay attention to the first anchor text, etc.
What it ended up being was a very very basic introduction to search engines and SEO.
This wasn't Gio's fault. It was just the speed of the audience in attendance.
At one point the class became nearly derailed as Gio (and then I as an attendee) tried to explain to the mostly blogger audience the difference between the title of the web page as presented by the <title></title> tags and the title of the web page as presented by the <h1></h1> tags at the top of a post. For a lot of the people in the audience they had never even considered the two.
So yeah, it was that kind of session.
Considering Gio's experience and knowledge – it could have been a lot more interesting.
Twitter & Plurk Microblogging to the Extreme (Geoff Livingston)
I'll admit I had never heard of Geoff before. Considering he's very involved in social media, lives right here in the DC area and runs his own agency with some big name clients – this is a bit surprising. But this says more about my knowledge of the local search and social industry than it does about Geoff.
I actually attended this session because Beth Harte had said it would be interesting.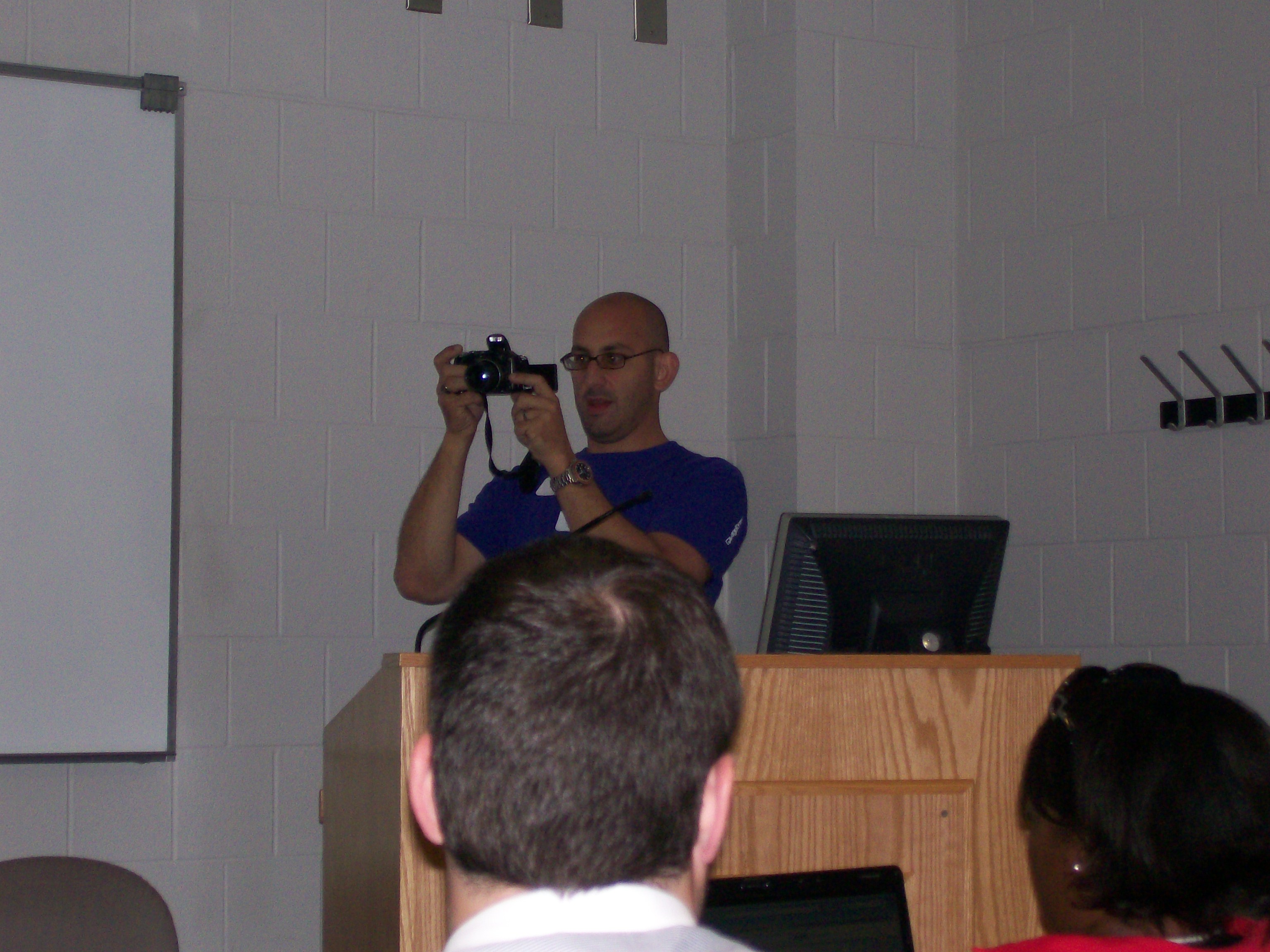 And it was. Again, the audience drove large parts of the discussion (following the spirit of Podcamp).
At one point a lady asked "why is it important to use Twitter for business? I don't really need to know what you had for dinner for me to decide if I want to do business with you, I care about things like price and service, etc".
Geoff has an animated and energetic presence and when he was confronted with this he more or less explained by way of anecdote how we prefer to do business with people we like, we tend to like people we know, and the more we know a person the more we trust them. So if a potential client can get to know you as a person through your tweets – all the better.
The lady was unconvinced, and I believe half the audience was with her.
The group seemed to be divided into those who liked and "got" Twitter, those who didn't get the whole Twitter thing, and Beth Harte who wanted everyone to use Plurk.
eConversion 101 (Alex Cohen)
I attended this session because I enjoyed Alex's insights during the B2B Site Clinic. He certainly knows his way around driving the conversion process, and I was hoping this would be a good session for me. But it just wasn't the right fit.
A lot of Alex's examples were e-commerce driven and most of what I do with websites is lead generation for my own services.
I needed some better ideas on getting people to sign-up for an e-mail, or to get a report, or a follow-up phone call, etc. Some of Alex's advice (streamline forms, ask for as little info as possible, work on your message, and get everything above the fold) was helpful.
But then he went into things like shipping address/options, credit card processing, registering on e-commerce sites, etc.
I think I left this session about 15 minutes early to catch some of the Battle Decks going on in the auditorium – but that ended up being a waste of time anyway.
The videos I had seen of Battle Decks were probably the cream of the crop. Most of us just get up there and wing it. And in many ways, that isn't any different than a regular presentation in the corporate world.
Would I Go Again?
Absolutely. Not only to PodCamp Philly, but to any barcamp unconferences (Wordcamp is another popular one) around the country.
When I go next year I am going to get a hotel. For a few reasons I chose to drive up and back both days. Economically this probably ended up being a wash, and I got spend the night in my own bed. But the drive does take some out of you and I missed a few of the social events because I was busy driving home.
Based on some of the questions I heard from a few of the bloggers in attendance, I might even organize a few of my own sessions.